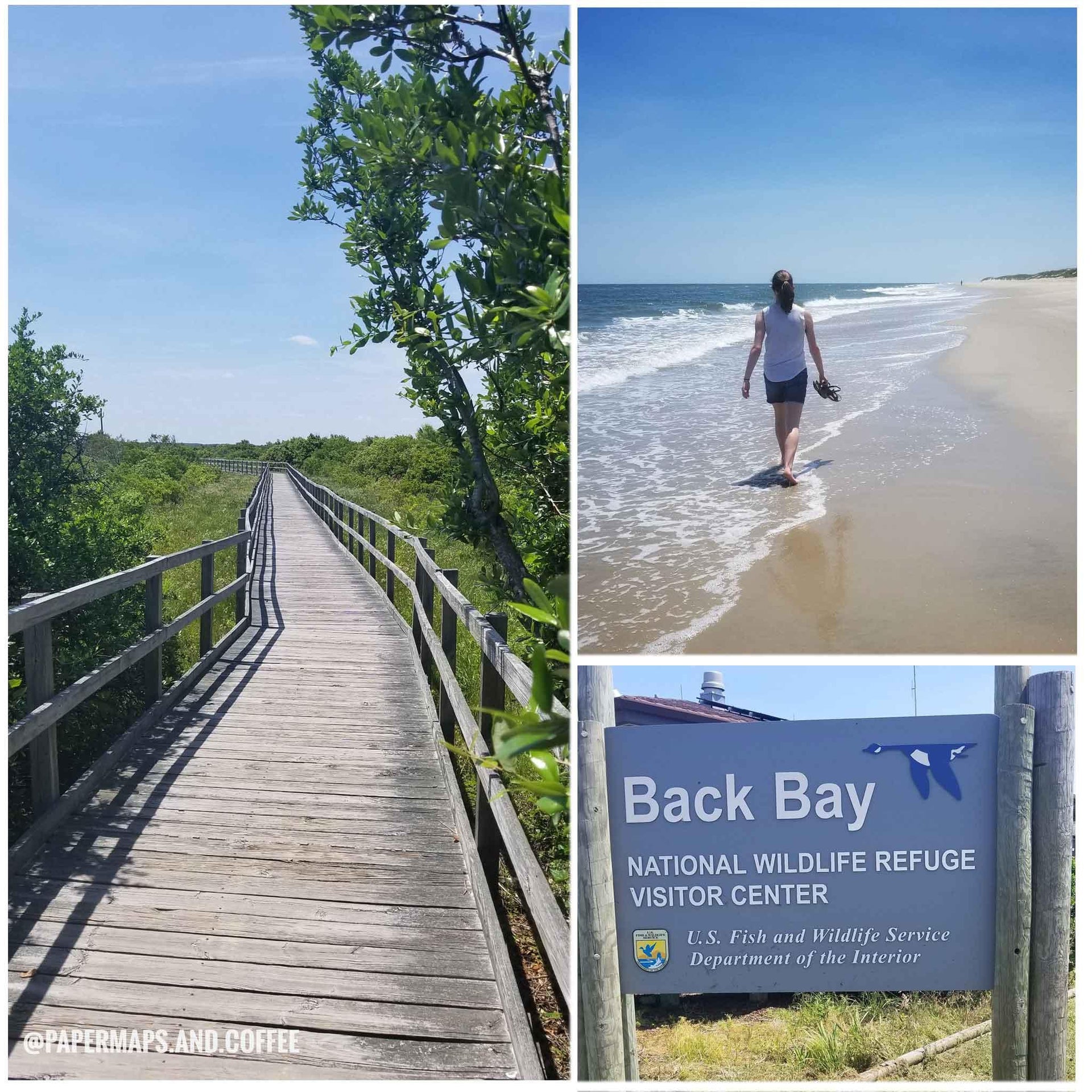 A trip to Back Bay National Wildlife Refuge
Paper Maps & Coffee
Andrea and Ryan love to travel and we're sharing one of their trips!
Back Bay - National Wildlife Refuge | Virginia
https://www.fws.gov/refuge/back_bay/
Andrea grew up with her family moving a lot because of military duties… so, this love of travel started early.
"We love seeing new places and wanted to show our children unspoiled lands like Back Bay in Virginia." Back Bay National Wildlife Refuge was established on June 6, 1938, as a 4,589-acre refuge to provide feeding/resting habitat for migratory birds. It is also home to sea turtles. 
Andrea and Ryan's travel notes:
this is an uninhabited expanse of beach that is non-commercial (no swimming or sunbathing here)
if you plan a visit, think of this as more of a hike (the beach is less than 10 miles long)
there is a minimal fee to enter (Nov 1 to Mar 31st is free)
Park Rangers patrol the beaches regularly
Most surprising was the "how pristine the landscape is" 
What do the Outdoors mean to you?
"Life can be so busy. We wanted our kids to know that they could find these "pristine" places… these out-of-the-way spaces and enjoy the expanse and variety travel affords. If you see the same things every day, you can tend to think the same things."
Where do you enjoy the outdoors when you're not traveling?
"Black Partridge Park in Metamora, IL - We love to hike, mountain bike, and just go for walks. Maybe someday we will have a garden too."
Do you have a family motto?
"Not a motto, but Ryan always says the secret to life / All the things you need to know:
Slow down
Think things through
Be a part of something bigger than yourself."
Take day trips :-)

 

Places like Montfort, WI to get popcorn or just take the long way home from wherever you've been…work or errands. Just hop in the car and go. 
We love this advice! 
Andrea and Ryan can be found on Instagram @papermaps.and.coffee - be sure to check out more of their travels to get ideas and information for your next wander to the great outdoors.
Oh, and one more tip from Andrea … " When traveling… get to know your hotelier and ask where the locals hike or eat." Great tip!